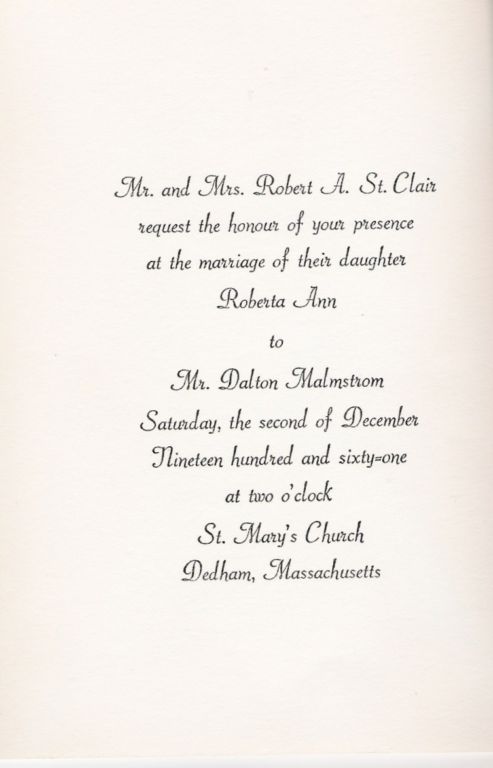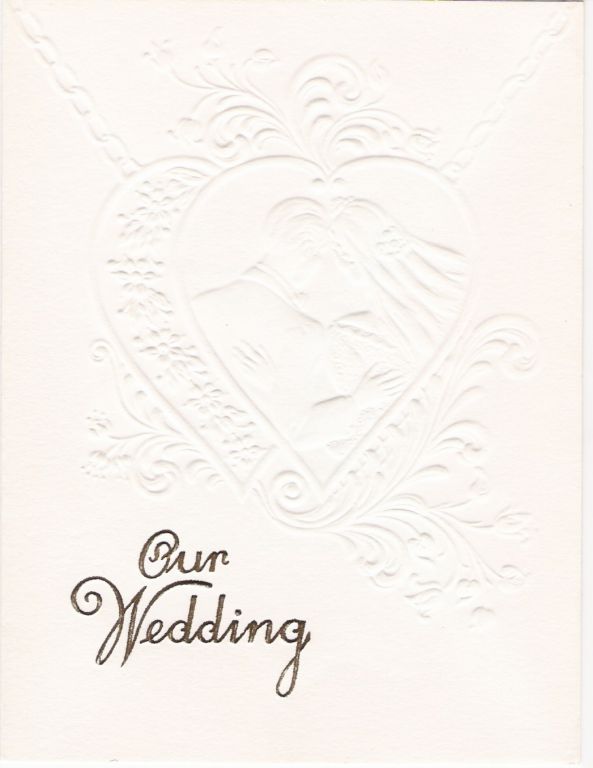 Dalton & Roberta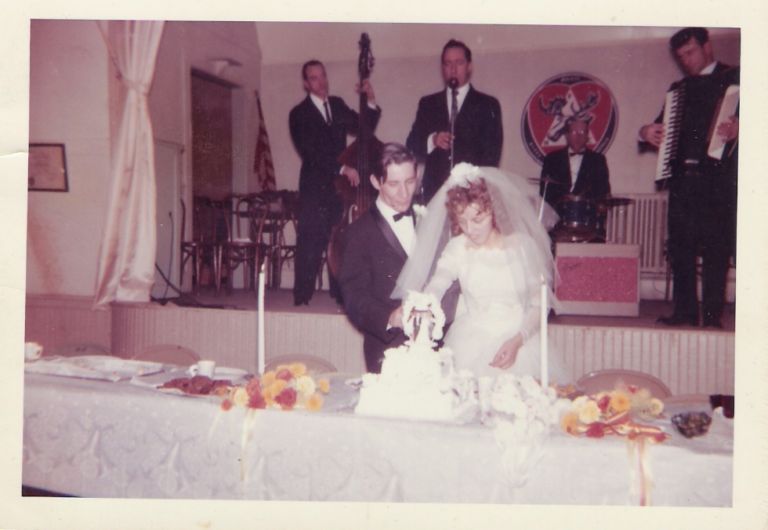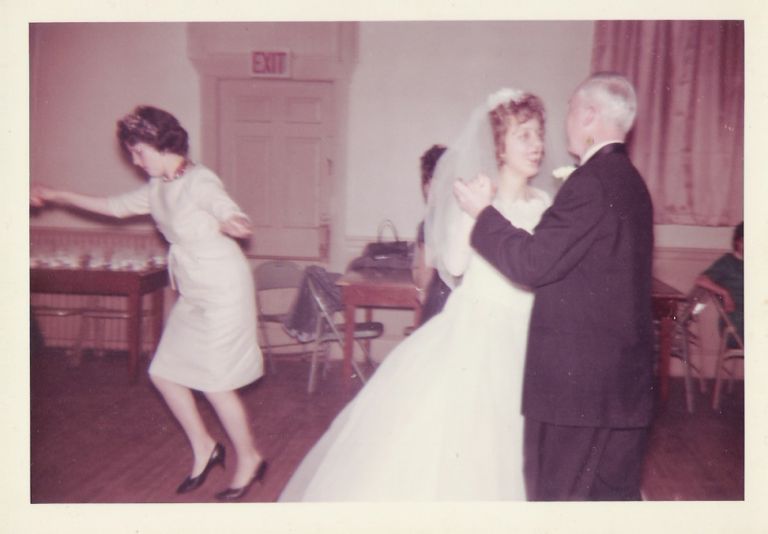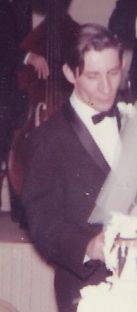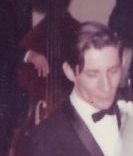 December 2, 1961 @ 2:00 PM

This was the day Dalton and I got married in Dedham , MA.. We all had a good time and we lived at
Auntie Bea and Uncle Jim's for about the first year. Next when Dalton got a job we got an apartment next to almost Auntie Agnes and Uncle Charlie in a downstairs apartment. The apartment was very cold. I don't remember much about it but we had squabbles where I would get abused and he would disappear for days on end. We got kicked out of this apartment, and found one in Jamaica plain next to the Cardinal Cushing seminary in a private home.

Shortly after Sputnik was launched and we hung out the 3rd floor windows looking for it. Big yellow light in sky moved on the horizon. We felt bad because Russia launched before us the United States.

This apartment was when the Boston Strangler was on the lose, we were scared. We had a News Year's Eve party and invited friends from work. IT all got late and we retired. When we woke up the kitchen ceiling had collapsed because pipes had burst. Of course the elderly lady owner said we had to move because of damage it did to the house.

Even there Dalton would get mad for some reason and beat me, guess he got headaches. Well we got an apartment on the 3rd floor in Roslindale on the corner of Hyde Park and Cummins Highway. There were so many windows it was warm and sunny and our ivy plants grew profusely and healthy.

Well Dalton would drink and be gone for days. One day when he left for work I watched out the front window as he left. To my surprise a car pulled out beside the building and Dalton got in and left on the way to work. I recognized the lady as Mary from work, Dalton had made her his girlfriend. I ran all the way down the road through a tunnel and waited curb side for them to pull up at curb.

They did not see me because they were kissing and hugging. She spotted me, Dalton jumped out and ran to work. Next morning I waited at time clock for Mary to clock in, I kind of hid, I came up behind her and up ended her in a half empty box near the time clock.

The supervisor called me into office and bawled me out. As he was telling me to leave, Eddie said I agree with you Bobbie, but you cant do that at work. So at end of day I walked home from work. When Dalton got home he said Mary and him were going to move to California and live. Then Dalton left, and I was alone. I thought I can[t handle this anymore.....

It was shortly after this I was cleaning house and the bulleting came across the radio / tv
President Kennedy had been short. The country was in shock. The president was short and died,It was such a tragic time.

Well Dalton had not left yet and would drink a lot and disappear.One day when I went upstairs from my job in the sub shop for sandwiches. Dalton was so drunk he started to break up the house and throw things at me such as knives and records, some of which hit me and cut me. I managed to get away and go back to work, though I called the police from work. Before they got to where I was he came down and was going to fight down there but they made him go upstairs with them and they saw all the damage he had done.He fought with them and they took him away, for 12 days he was involuntarily put under observation for craziness'.

Well I tried to work, but could not. I went home that night and took whole bottle of aspirin and laid in bed, I wanted to die. Well for some reason in the morning Dalton came home when released and found me unconscious he walked me to hospital and they said it was to late to pump stomach, they held me over night for observation. Well we were kicked from that apartment and moved to an apartment in Rockland, ME.

But Dalton continued to drink and get in fights and disappear for days at a time. After a little bit he left me, and I had to leave little house we had rented. I moved into an efficiency apartment owned by the restaurant owner I worked for. I paid $15.00 a week there, but owner said as long as I was at work I could eat all I wanted. I worked Friday and Saturday nights at Oasis serving drinks in the lounge. So I made $20.00 dollars pay and tips.

For a little bit Dalton and I lived in one room upstairs in motel. He kept beating me and I finally moved into efficiency apartment in the building that restaurant owner owned. Rent was 15.00 dollars a week. So between two jobs and tips I survived. The cooks Brenda had their own apartment in building. We all became good friends. Sharon and Kelly and I did everything together all the time we worked there together.

One Saturday the three of us decided to go out for breakfast on Main St. We had crossed over the road and was on the other side of the road were the drug store was on corner of Park and Main Street. We had just past the door of the drug store when Dalton jumped on me and started to beat me to death. Well Brenda and Shirley jumped in and somehow got him off of me, and the police in Rockland took him away and arrested him.

The next morning the girls took me to the lawyers on Main Street, he was a catholic, and with in 30 days the Catholic Church gave me an annulment, because they did not want me killed. So our almost 4 year marriage was ended. The divorce/ annulment was final in 29 days. The lawyer knew Dalton's reputation. Dalton and I were divorced about 2 years before I met Bill.
--------------------------------------------------------------------------------------------------------------------------------

After all of this I stayed working at the two jobs till I got an apartment in East Dedham near mom.She had moved downstairs for bigger apartment, and I had her shoe box apartment upstairs. I started to go out with mom to the Moose Hall and Legion Hall. I met a man named Bill Hope who would come into the Moose after work at nights.

It did not take long before Bill and I got involved with each other. After about 6 months he asked me to move in with him and I thought why not, he was pretty nice with me. His ex-wife had had his six kids and got them when they got divorced, On the week-ends Bill had the kids and we got along well.

One Sunday night when he brought kids back to his ex her new hubby was there. Bill never liked him because he had taken Norma away from him. So Bill said something to him and they got into fist fight and ended up in walk in kitchen closet. Well Norma broke them up and stopped fight. So Bill and I left and went back to our house in Bellingham.

Shortly after that Bill and I got married at the Justice of the Peace at the clerks office. Eddie and Shirley stood up for us, and we all went for a week to Rockland, ME. We stayed at hotel in Rockland and went everywhere having good time. We visited my Dad and Bill took this picture of Eddie and Shirley and I standing with my dad and my grandma Corabelle..... I was so skinny there.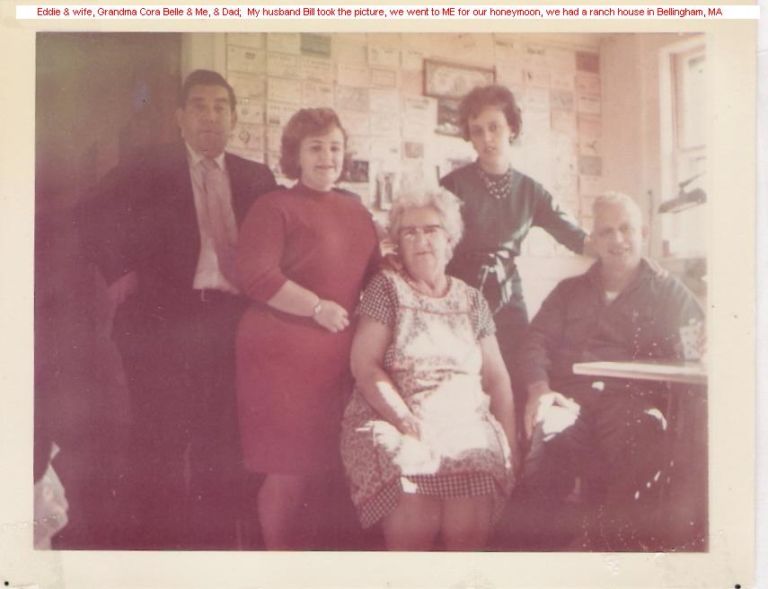 We arrived home after vacation and settle in. It was only a few weeks when Bill started to get home late and had been drinking. He would start to beat me, so I took the car and ran up to dad's in Rockland.I was there for about a week when Bill called and asked me to come back to him, so I decided to.

When I went to leave blizzard had started and dad begged me to not leave. I had an old Chevy that was kind of blue and white trim, and my tires were bald. I said dad I will drive slow on Rout 1 back to Boston. On the road the snow was heavy and I slipped and slid a lot. Finally just before Wiscassett the car shot across the road hit the guard rail and went over tail to tail several times. All I remember is thinking to hold on for dear life. I had all heavy clothes on and boots and scarf.Finally the car stopped and I lay there against the passenger window. Next thing I know a door was pulled open though car was on its side.It was two undertakers that saw me crash. They said are you okay I said yes. They said can you stand up, I said sure. I stood up and passed out . They crawled in and pulled me out.

The storm was so bad no ambulance could come but State Police took me to the hospital in their police car,

After a couple of Days bill came and took me to dads for a day, then we headed home to Bellingham , MA. Was only home a few weeks and Bill disappeared after kicking me and hurting me while I was sitting in kitchen at table.

After a few weeks I moved to Auntie Agnes with what little I had left. Was not there long and I asked her if I could borrow her car, and she said yes, So I went to house in Bellingham at Bills house.

Sometime after I had left Bill physically killed the two dogs we had in the basement, The neighbors told me after dogs stopped screaming Bill left in car and was gone for about 15 minutes. He had driven up the street and thrown the dogs in a beep ditch no one could see.

Then Bill left the house and disappeared, and authorities saw the blood all over the basement walls and floors. They began to look for me because they were affraid he had killed me too.

I found a note on the side door and it was from the mafia and they said they would kill him if he did not pay all the loan up immediately.I was scared, so got u-haul and took what I had left there stored at Auntie Agnes... Uncle Charlie said why don't you go back to your husband. I said I would but he disappeared and Mafia are after him to kill him.


Well about a month later I got a call it was Bill he wanted me to come to San Diego and join him so I said yes, and flew out there. He picked me up at airport and we got motel efficiency apt at near San Diego Town Hall. We were there only a week when Bill pushed me out the door and stole my pocket book, I was in shock, I put my fist through the small window near the door and reached my pocket book.

Bill came out of the bathroom and saw what I did and he chased me down the street and cops stoped us both. And took us to jail , they let me go and I got on a plane and flew to Los Angles and stayed with a girlfriend till I got a job at Litton Industries on the assembly line for printed circuit boards. And worked there till I got laid off then I got a job at Canoga electronics.

But at Litton Industries is where I met Bob Wilson my last husband , he was my two daughters father.

-----------------------------------------------------------------------------------------------------------------------------------------