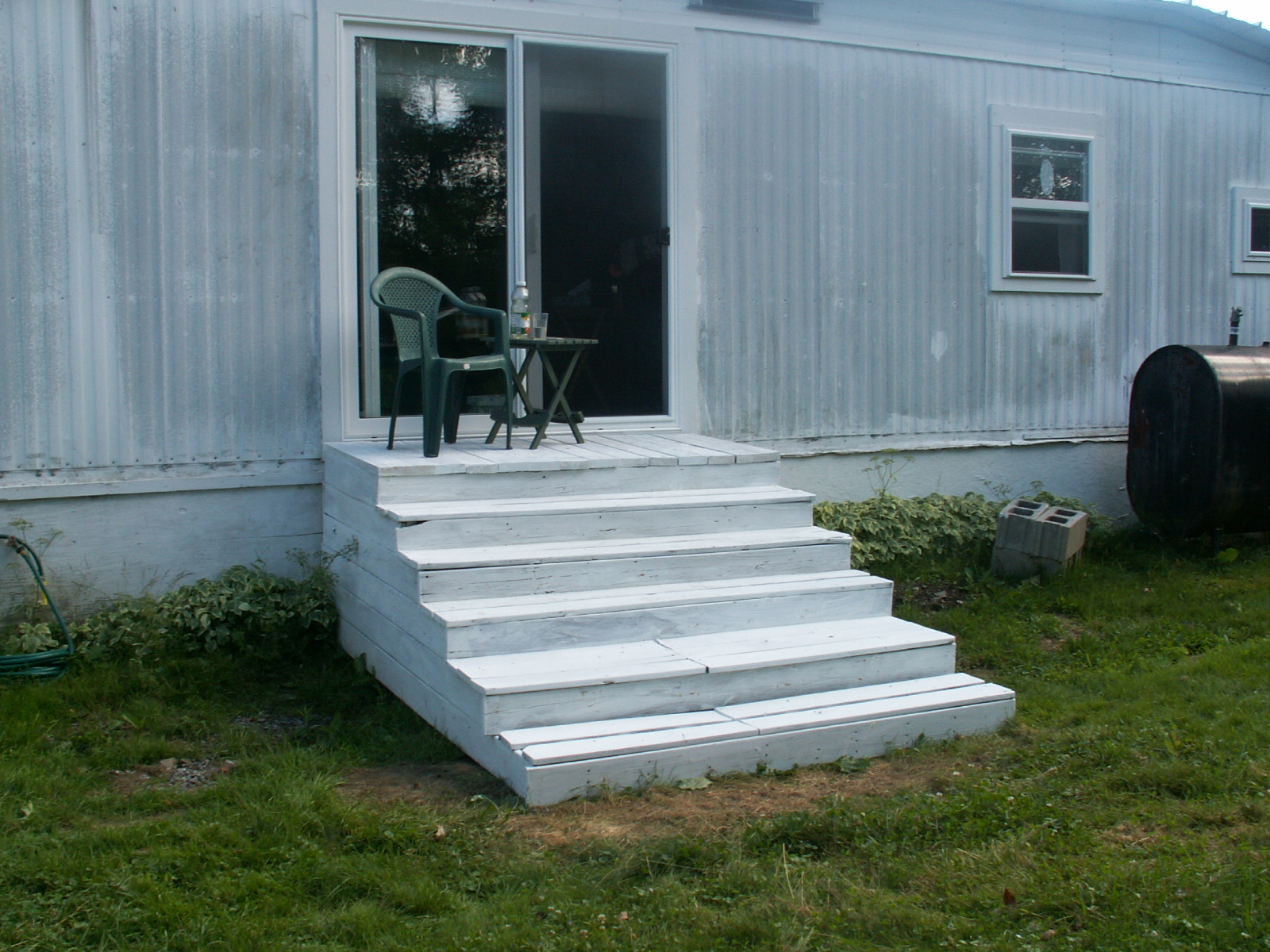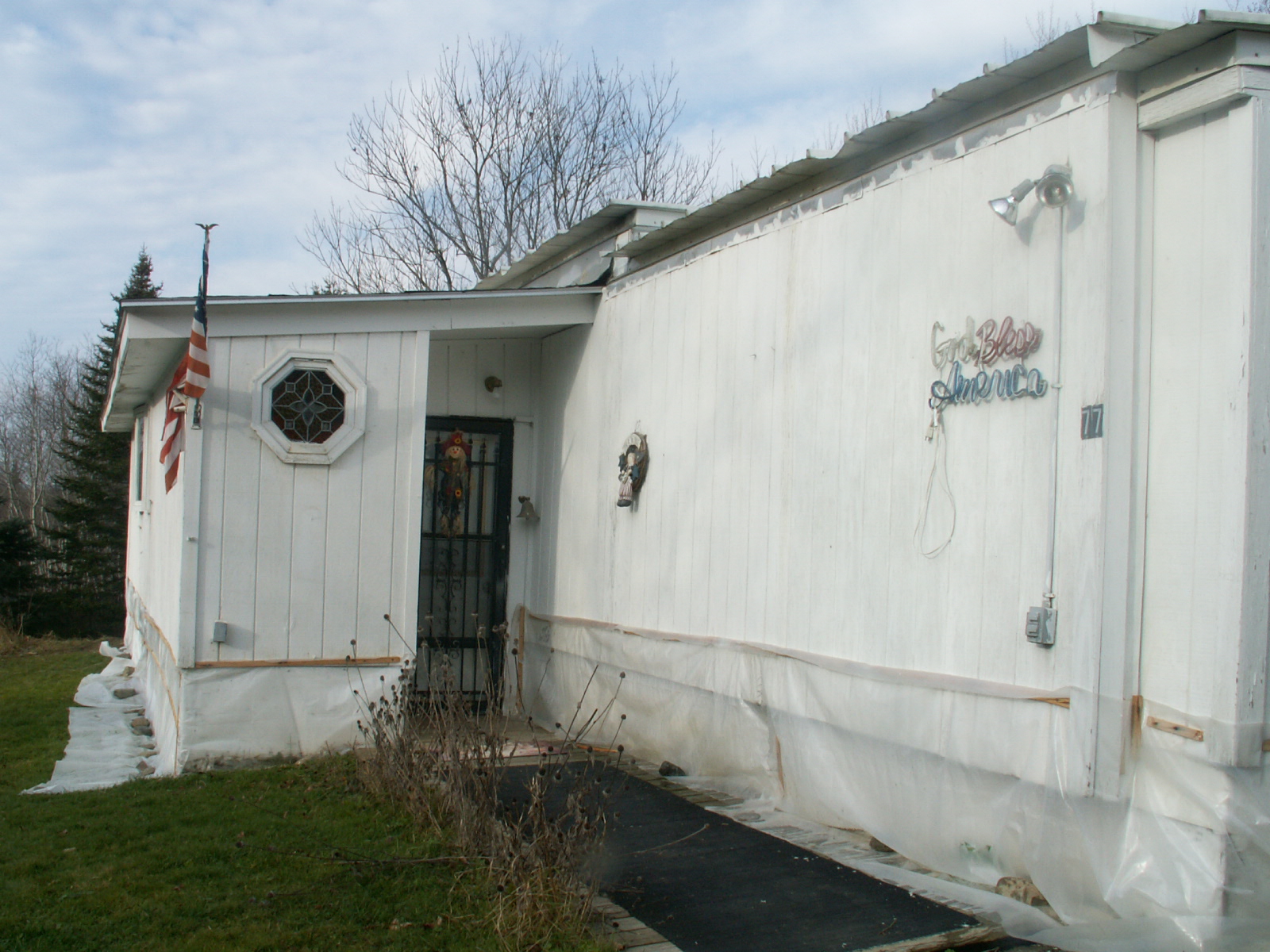 Outside Condition of home when I moved into 77 Line Road , Dexter , ME .
Justin the transformation of this home in the six or so years I lived in it and up graded it.You may be surprised at all I did, smile.

I moved in the home December 2006 and moved out December 2012.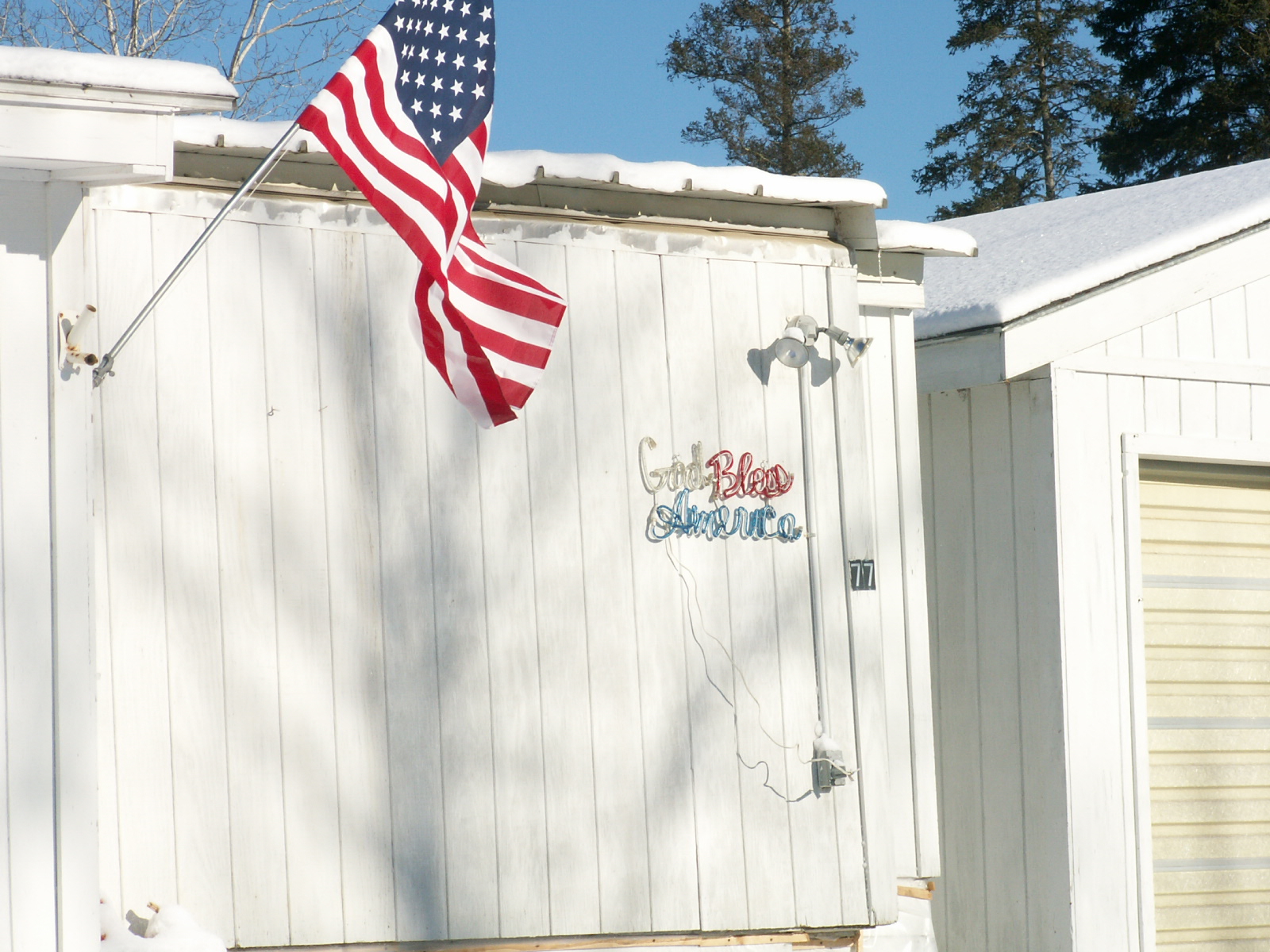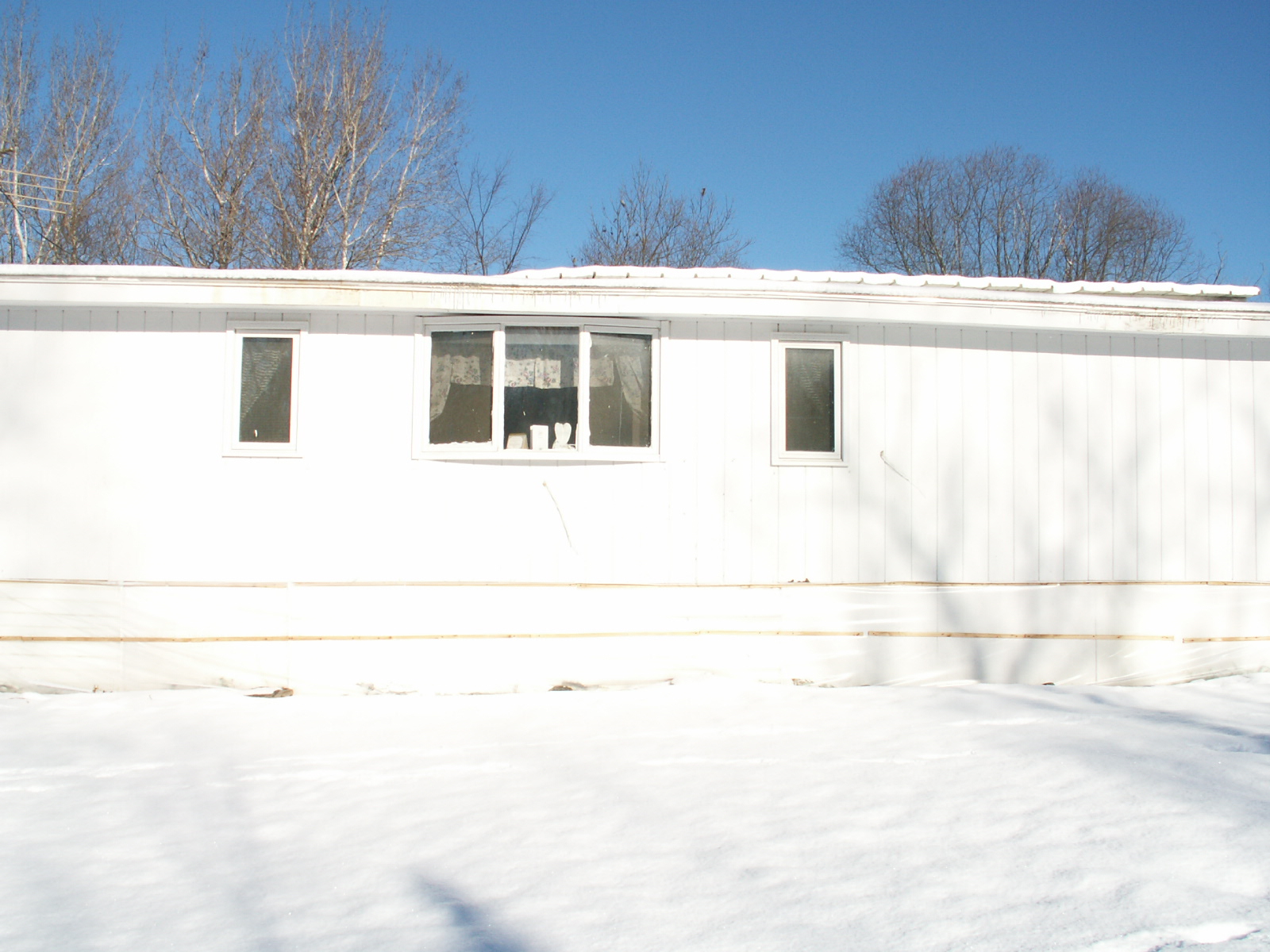 Well it was a fairly clear day but cold. I had packed everything technology wise into my car, for I felt that was best. I also made sure I brought folding table and chairs, and a folding chaise lounge to sleep on in case moving truck had not arrived.

So I left keys with daughter Lisa Lee so she could let movers into apartment inn Natick. She was happy to help. Just about dark in Dexter the moving truck backed into my driveway and yard. They were thankful they found my home before dark. It took them about two hours to unload and place things where I felt was best. They were tired and I offered for them to stay over night but they said they would head home, and I knew the movers.

So for awhile I was busy assessing what would be first to be done. My first project was dismantelling the old tin shed in the back. I carried each piece to the front at road side, and put a sign up free .

I had never installed banking on a house for winter. So I bought a portable power drill and a bunch of laves and screw nails. This is where my building trades course came in handy. It was amazing how doing that helped tremendously. I will admit my fingers got cold easily. I could never finger out how to keep them warm. But I finished and in spring I cleaned up the square of cement it had been on.

Next if tackled the back yard bamboo brush, and was shocked it grew in Maine. Adventurely I cleared all the rubbish the old farm had tossed there. It was richly rewarding for then grass grew where I had cleaned. After a bit I tackled cutting rotten trees in half, and then nailed new birdhouses to them, and that spring birds found their new homes.

Inside the home I had repairs to be done too, such as the spare bedroom walk in shower floor had cracked. A man came gave me an estimate, and when I gathered the savings he came back and did the job. He even gave me a discount because I paid him cash, I was so pleased with his work, and word of mouth got him more jobs.

Then following spring I contacted Rural Development and asked for help on doing the windows and doors and adding sliding doors to the back parlor wall so I could exit that way if necessary. Then the added enjoyment of watching all the wild animals in the huge field behind my house. So many hours of watching the deer and other animals and their feeding habits.

My old supervisor from where I had worked visit and suggested I buy or build stairs for the doors in back at sliding door and end of front room. She said if insurance came and inspected they might cancel my policy. So I took to using the old wood from the deck that I tore apart, and from the dump wood pile. You can see pictures of the small stairs I did first, then I tackled the back deck stairs so it would be wide enough to put two folding chairs on it and I could sun myself. It worked out well, but I forgot it would be heavy for me to turn over, and move close to the house. So I asked my Pastor Will to come and turn over. He came and brought a few fellows to help.

Then in spring I started scrapping house and decided what color to paint the house. Also to add shutters the finished job. It was rewarding. The lady who had lived there had planted many gardens that came up yearly. And I added decorations to the front lawn and plaques for house outside walls. I was very patriotic in what I choose.

At this juncture I started sending Shoe Box for soldiers to three precious young service men. One Marine my grandson Jayme Bellofatto Jr.. His last seven months he was stationed as a cavalry scout sniper in Afghanistan. As you know Justin my best girl friend had a grandson named Levi Watson in the Army in Iraq, and his partner so to speak , Justin ( You my dear son ). Tho there was much sadness two weeks before you both got to go home for leave. Two of your leaders got blown up, it was so painful. But I believe in some small way I made your stays and days a little better. I did what I was led to do by GOD. Now look, you and Levi will be my sons for life. The greatest day was when you got your last package and had someone take your picture with you holding it. That gave me the warmest feeling ever. You have always been so loving and Levi too. A side joy was when the local country news paper did a story on Blue and Gold star people who displayed the flags in the windows. There was a large story, and I received many thank you.

Not all was joy. A neighbor down the hill from me was, let's say illegal in many ways. He jacked deer, and would shot cannon balls at my home yard. I called police and game wardens many times. One time on day walks I spotted deer parts and white buckets along side the road. I was scared and knew it was dangerous so I reported to police chief, and even game wardens.

I started to get harassed. So I decided to put home up for sale,and no one wanted to buy it. It started out at $30,00.00 and ended up at $19,000.00 so I signed it back to bank on a quit claim deed, they were not happy, but had to accept because I was advised to say I was in physical danger. I had payed two months ahead on payments but bank did not file papers til that money was gone. I got 7 years bad credit, but then it came off.

In the mean time I moved into Senior Housing in Rockland , Maine into a one bedroom apartment at Methodist conference home into apartment 4 L.. Rockland was my hometown as a kid.

Life was pretty good there for a year. I would ride around and visit places I played when a kid and out family was together. It was happy times and places. But then a man named Carl took interest in me, and we would see each other once in awhile.
When there would be birthdays we all attended. Then they started to exclude me for all activities.

The problem came when 4 ladies started to say I was stealing their boyfriend. They did everything they could to get me thrown out of there. But office did not do anything. I exclaimed to office about Carl and I seeing each other, and they then saw what ladies were doing.

My daughter Penny Jean said Mom come live with me in a bedroom and rent it and so I did. It took 3 months to get into Webster Senior Housing.

Justin that is it for today. My next chapter will be Webster, MA. From December 21st, 2013 to now.

Love MS Bobbie